Ducati Bikes I Have Owned (1)...
Ducati Monster 620ie
My 3rd last bike was the Ducati (I know the photo caption says '2nd last', but I weakened and got another bike after the XVS250 - a XVS650).
One might say it was my next to penultimate bike in terms of bikes owned and but also my ultimate in terms of handling.
It is a 4-stroke V-twin of 618cc capacity and a 14 litre petrol tank.
The engine is torquey and with the Ducati performance pipes installed it had a low, deep sound that was music to my ears. It must have been not too bad for others as it turned the heads of the local constabulary many times (quiet it wasn't), but I was never pulled up.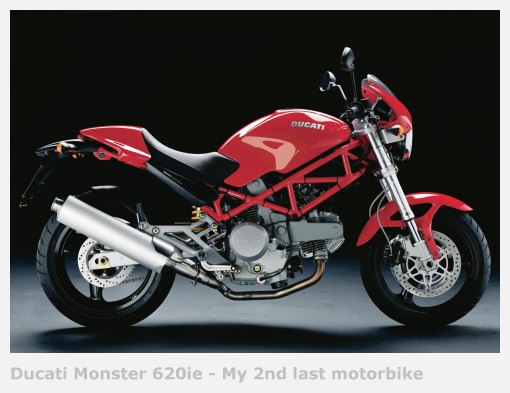 I have never owned a bike that handled as well as this bike.
In fact, one of the reasons (insurance and rego costs were others) I sold it to get the XVS250 (and now the XVS650) was that I tended to not ride it at a pace commensurate with my age.
I fondly remember a few sessions of knee-scraping along the winding bits of the local bike-crash-notorious Putty Road.
Sensibly that sort of riding is a thing of the past for me... I engaged in the knee-scraping at a young and foolish age of 58 - now I am 64 I am much more sensible and don't do that anymore.... (wink, wink...)