Harley-Davidson Bikes I Have Owned (1)...
Every one should own at least one Harley....
Harley Sportster 883 Hugger
OK - so this was a tiddler Harley, but I loved this bike (and hated it every alternate day...)
It is a 4-stroke V-twin of 883cc capacity and a 12 litre petrol tank.
The engine is torquey and with the modified pipes (pointed steel bar shoved up the exhaust) it had that Harley sound - not the slash pipe racket Harley sound - the deep, low frequency Harley rumble.
My wife also rode this a few times and loved it. She dropped it once, but it wasn't her fault. I had found a nice windy, quiet road up the mountain a few days before for her to go for a ride. Off we set with myself and the children in the wagon and she following behind on the Harley. We rounded a bend to find in the interim that the road had been resurfaced leaving just narrow tracks where the cars had driven with mounds of gravel either side. After fighting to stay upright (it would have challenged even an experienced rider) for a time she tried to pull up on the side of the road. She had to ride through the gravel on the verge and arrived to find the edge sloped steeply away. Unfortunately the bike wobbled the wrong way and she toppled over. Once it has a mind to go over it is a lost cause to try and stop it - it weighed a tonne !!!
After realising she was no longer in the mirrors we turned around and as we rounded a bend, and saw the bike on it's side with her helmet about 5m from where she was sitting, we nearly died of fright. She said we all looked like ghosts with our white faces drained of blood...
Fortunately, no damage was done (just a scratch on the Harley).
This was a ride none of us will ever forget..
I was never pulled up although the local constabulary turned their heads as I went by. Mind you, I have never been hassled by the boys in blue in 40 years of motorbike riding. I have always had a respect for our custodians of the law and they have never bothered me. So many times have I heard about unfair booking by the law - but then when I ask - "Were you breaking the speed limit ?" - the answer has always been - "Well, yes - but...."
I have never owned a bike that handled as poorly as this bike. It is the only bike I wouldn't ride on a Club Race Day - except if the circuit had no corners...
In fact, it is the only bike that has taken me off a public road in a corner because I couldn't get it to lay over.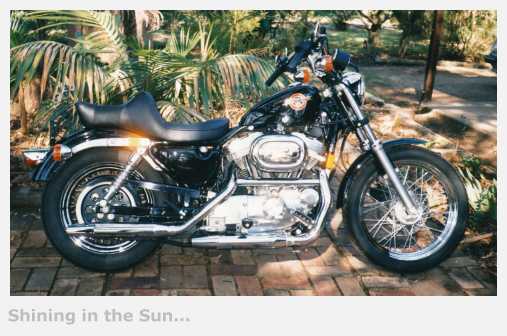 Attracted attention wherever I rode. Nearly got pinched while I was away looking at a view at a lookout. They had the van doors open with the mattress in the back ready to lift it in and drive away. I just had a bad feeling after only 5 minutes looking at the view and went back to check. As I appeared up over the steps into the carpark I heard a whistle and a chap walking towards my bike did a U-turn and came back to the van. Needless to say, I got on my bike and rode off.
Also, I would often come back to the bike to find onlookers, which was OK, but not my cup of tea. Once I came back from paying at a petrol station to find a rude person had sat his two-year old on my bike. Smiles all round (mine through gritted teeth).
Sold it to get some privacy...