Kawasaki Bikes I Have Owned (3)...
Well - actually - one was my wife's bike....
Kawasaki 100 Road Trail
Actually, this was bought for my wife, but we both loved it....
My wife got her bike licence on this bike in a small country town called Manilla (near Tamworth, NSW). The policeman was a bit dubious and asked her "Who owns the bike?". When she replied, "I do", he didn't appear convinced. I had encouraged her (heart in mouth...) to ride into town alone from the farm some 15km away to go for the test. Anyway, she passed and was rightly mighty pleased with herself when she rode back into the farm gate with her licence.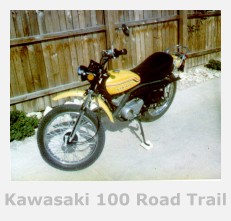 Either that trip or a later trip we decided to go on a camping trip with the bikes to Lake Keepit. On the way there the Kwaka 100 stopped and refused to start.
My wife refused to leave her little Kwaka by the road and I refused to leave her behind, so we came up with this brilliant idea (or was it my idea...) that I should tow her back to town. This was in the days before mobile phones and so the nearest phone to ring back to the farm for the trailer was in town.
The only thing we had was a couple of occy straps. We started off OK - but it quickly turned into a nightmare as it was a constant battle for her to balance the machine against the stretchy action of the straps and she would swing behind either side of me like a water-skier. I was struggling to remain upright as well. I couldn't hear her say 'stop' over the bike noise and the helmets and she was terrified the whole way. To her credit (and my admiration) she hung on, although there were a few tears in the eyes at the end.
That is a riding experience she will always remember.
It was the lightest bike I have ever ridden and once I rode it in a Club motorcross day for a lark with a mate of mine who rode his 125cc Honda 4-stroke.
Here I am practising for the day in the backyard...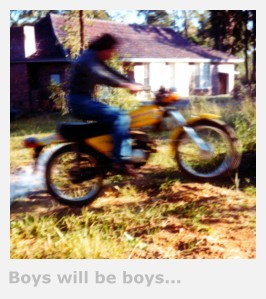 Much to our surprise we didn't come last against all the high-powered machines as while they were going out wide to catch the berms we would slip underneath them by just pottering around and cutting the corners. We had a lot of laughs that day.
Kawasaki KX50 / Kawasaki KX80
These we bought from friends of ours. Their boys had been into motocross, but were no longer participating and these were their bikes.
We used them at a local bike park (Pacific Park).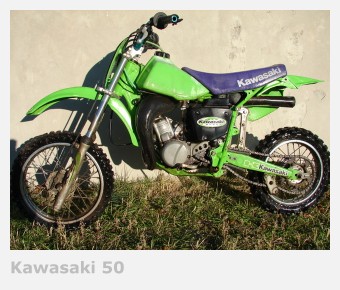 Our three children also rode them, although I don't think they rode the KX80.
Despite their size and capacity these were no toys. I could ride the KX50 full throttle, but not the KX80.
We loved these bikes and had a lot of fun with them.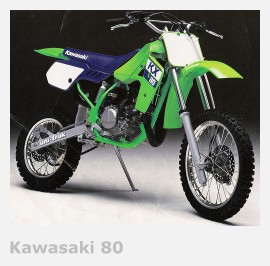 I remember one day going out to a property owned by the friends we bought these bikes from. There were three or four young blokes going around a track through the bush and to their surprise (and to be honest - mine) and also a little annoyance I could keep up with them.
When I told them that I had done some road racing they seemed to be happier.
Sad really - when you have a great day because you as a 40-something can keep up with a bunch of teenagers...