Yamaha Bikes I Have Owned
First Bike - Yamaha 125
My first bike was a Yamaha 125 2-stroke twin.
I hadn't been able to find the model (I had forgotten) on the internet, but I got an email out-of-the-blue from Leigh and he informs me it is a 1968 Yamaha 125 YAS2C. I searched under that name and found a YouTube video. It sure is the right one. Thanks Leigh !!!
A 1968 Yamaha 125 YAS2C on YouTube (Hi-Res 22Mb, Lo-Res 11Mb)
Note the latest riding apparel of the day on my Yamaha 125 Street Scrambler....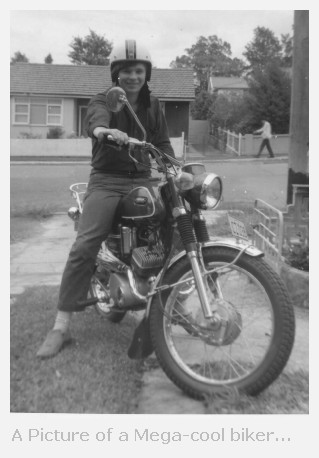 And to think that men landed on the moon around the time I was riding this bike in this gear...
I learnt to ride and got my bike licence on this bike.
This was the start of a long love of riding motorcycles.
I fell off this bike at a walking pace. I was taking my girlfriend (wife to be) for a dink around the block. On the first corner when I leaned the bike over to go round, my girlfriend moved to sit upright. This shift in weight of course leaned the bike over further and as the process progressed we fell over...
And my wife still reckons it was my fault...:-)
Yamaha XVS650A Classic
A medium-weight bike (~250kg) with a fairly low seat height (710mm) which is a comfortable riding position for my short height of 163cm.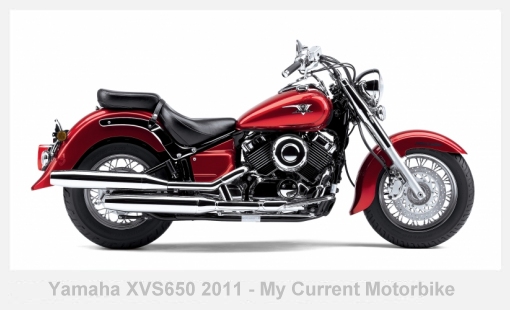 It is a 4-stroke V-twin of 649cc capacity and has a 16 litre petrol tank.
It has more of a 'pseudo-vintage' look than the XVS250 (which is a 'Hardly Davidson look) with ducktail mudguards and a thick front wheel. I like the look of it.
Surprisingly it is easier to ride at very low speeds than the XVS250 (which I found pretty good in this regard). This probably due to the 90kg extra weight compared to the XVS250 combined with the low centre-of-gravity. Also the XVS650 seems much more stable in the corners than the XVS250. I didn't expect this but I am pleasantly surprised.
This is my first shaft-drive motorcycle and although I quite like it, the gear whine is a bit disconcerting. As long as it is normal I don't care.
Yamaha XVS250
It is a nice light and low bike (670mm seat height) with a comfortable riding position for our 163cm size frames.
It is a 4-stroke V-twin of 249cc capacity and has an 11 litre petrol tank.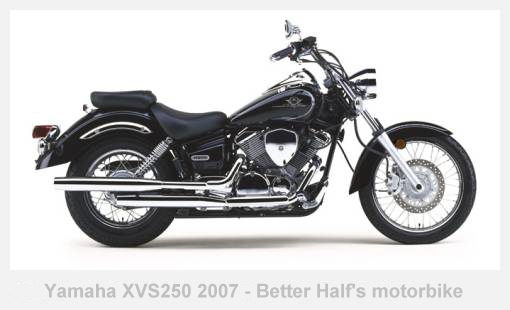 Although pretty slow off the mark because of the small size of the engine and the sedate state of tuning, its relatively good low-down torque (for a 250cc engine) makes it very pleasant to ride around the backblocks where we live.
Yamaha RD350
Ah - the ubiquitous RD350.
I didn't ride this much on the roads.
I mostly rode this at my Club's Race Days.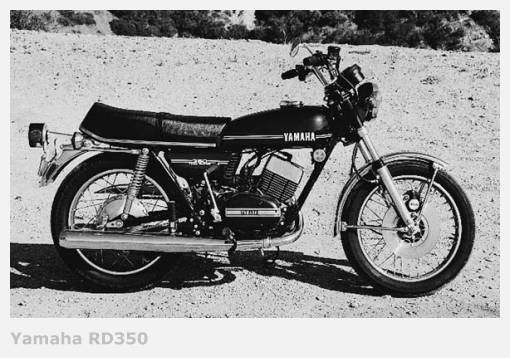 It is a twin cyclinder 2-stroke of 347cc capacity with a peaky powerband. It had a lot of go but I never liked the frame - it was too quick and twitchy for my liking. It was the only bike I have ever come off at speed (about 90mph [145kph] on the race track).
But that was after being in hospital the week before being treated for snake-bite. So I reckon I might have to look to my own stupidity, not the bike's handling, for the cause of that...
Yamaha SR500
I rode this to work for a couple of years (about 80km round trip) to save on petrol costs.
It is a single cylinder 4-stroke of 500cc capacity with a nice broad powerband.
It had a bit of go but I never liked the frame of this Yamaha either - not sure why - just didn't feel comfortable at speed.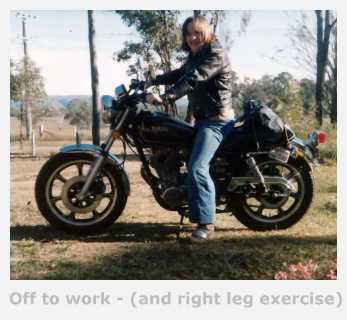 It had an annoying (and dangerous) habit of stalling when moving off at the lights - try kicking a single 500cc into life at the traffic lights after they turn green to get the idea of the 'excitement' generated by this bike....